Blog
Into the Archive: 5 Shows, 5 Locations
26 September 2017
Over the years, the contemporary art world has grown and grown; with graffiti and 'street art' now being shown regularly in galleries all over the world and artists putting the spotlight on issues that many of us are unaware of. Lazinc are incredibly proud to be a part of this art revolution and will continue to push the boundaries with our incredible roster of artists.
Lazinc has been a part of exhibitions, art fairs and projects around the world, most of which have had a strong message to share. So, we've picked 5 shows in 5 different locations to show you…
1) Turf War by Banksy (Hackney, London, 2003)
Live animals painted with the colours of the police, concentration camp stripes and images of Andy Warhol's face; it could only be Banksy.
The show took place in a warehouse on Kingsland Road. Visitors were greeted by a window display of a mannequin covering the words "good luck to tha police", which at another angle seemed to spell "uck tha police". Inside the warehouse you were able to get a glimpse into the street artist's world, with every surface covered in art – including all of the animals.
Flying Copper imagery covered the ceilings which seemed almost fitting when the police turned up to the event. Imagine their bemusement to walk into an impromptu art exhibition with political and social charged work wherever they turned and an animal rights activist chained to the railings (despite the animal's conditions being approved by the RSPCA prior).
It was Banksy's first major show in the UK and it was just the start of what that artist had in store for the world...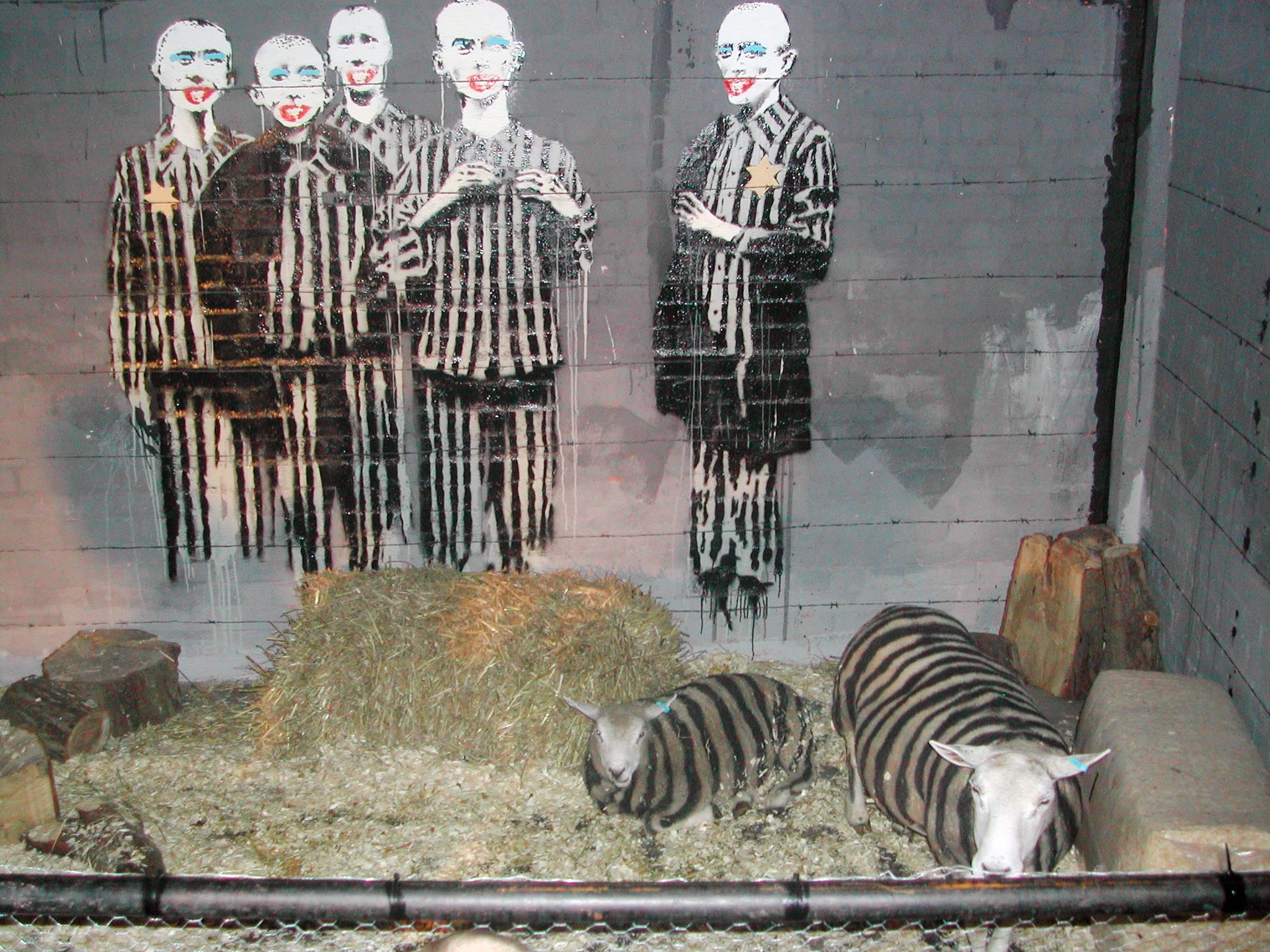 2) Impure Idols by Antony Micallef (Hollywood Boulevard, Los Angeles, 2007)
Antony Micallef's debut Los Angeles show not only sold out but also caused a stir with the visitors. The walls were full of canvases, with sculptures dotted around the pop-up gallery, all depicting themes of sex, fame and vanity. Topics that highlight the darker side of Hollywood's culture.
As the name of the exhibition states, the artist controversially highlighted the impurity of Hollywood's idols and role models. One particular series entitled Hollywood Prayers 1, 2 and 3, showed an image of a girl with a child's handwriting beside it. One stated: "Dear Lord, please can you save all the starving children in the world and please can you make a miracle so I can have that Versace dress. Amen".
Fast forward ten years and these artworks still have a very strong connection to present day, with various cultures still looking to celebrities for what they should or shouldn't look like, what they should or shouldn't wear and what they should or shouldn't act like…
3) The Outsiders, New York (Manhattan, New York, 2008)
In 2008, it was time to spread the world of Britain's modern art to the big apple in the form of a Lazarides group show. The artists on the gallery's roster had become known as The Outsiders due to their unconventional works and subject matters that shunned the mainstream industry.
© Image by Ian Cox
This group of artists included: Faile, Paul Insect, JR, Antony Micallef, Jonathan Yeo, Invader, David Choe, Mark Jenkins, Todd James, Vhils, Mode 2, Zevs, Conor Harrington and many more. The exhibition showcased a variety of techniques, from Zevs creating one of his signature logos on a naked model, to a triptych of a James Bond girl created by Invader.
© Images by Ian Cox
In 2007, Jonathan Yeo's work took a new direction when The White House withdrew a commission for the artist to paint a portrait of President George W Bush. However, the artist went ahead with the canvas and unveiled it at Lazarides' London gallery. The piece boasted a collage technique but the medium was hardcore pornographic magazines. The image immediately went viral, becoming notorious around the world.
Porn in the USA was a continuation of this, with Yeo creating imagery that from afar looked like classical portraiture but on closer inspection shows a more passionate side to the perfect flesh tones. The visual trickery led viewers to laugh, stare and some even grunt with disapproval but all of those feelings took second place to seeing the talent that the artist was able to share with everyone.
One of the most talked about pieces was a portrait of Tiger Woods, the image was incredibly flattering but the collage was of course made of pornography. This technique reinforces the idea that things are not always as they seem at first glance and to truly understand and experience many aspects of life we must look at the closer details.
5) Grow Up (Fitzrovia, London, 2009)
The group show, Grow Up, marked the opening of the flagship gallery in Rathbone Place, a five-storey Georgian building.
Artists such as Lucy McLauchlan, Mode 2, Blu and more were involved in the exhibition, which spanned several floors. The innovative artwork reached out to a mass audience and together represented a new movement in contemporary art despite each piece having a varying subject.
© Image by Ian Cox
The space promised to provide a platform for artists that strive away from the mainstream and looking back on it today we can happily say what a success it has been. The building has seen exhibitions from Invader, JR, Vhils, Todd James and Jonathan Yeo, to mention a few. It has housed private views, DJ nights, cinematic events and more; Rathbone has seen it all.
© Images by Ian Cox
Who knows what you'll see at Lazinc next…