Blog
Beyond Frieze: 4 Artworks every Art Collector needs to see
5 October 2017
Lazinc has enjoyed some amazing exhibitions during Frieze week, creating several group shows in The Old Vic Tunnels. These phenomenal shows included artists such as Jonathan Yeo, Antony Micallef, JR, Invader and Vhils…
Whilst we will not be popping up with a surprise show this year, we have decided to gather some artwork that you may not have seen before…
1) Charlie Isoe, The Bad Bush, 2013
Quietly lauded as one of the finest talents in the art world today, Charlie Isoe's sweeping brushstrokes, frantic charcoal scrawling and lurid recollection of lived experiences have created some of the most enticing pieces of art.
Prior to his arts degree, Isoe hitch-hiked across continents, leaving graffiti and paintings along the way. However, these artworks were more than just spectacular pieces of work by a talented artist; they represented all of the experiences and observations the artist was discovering on his travels. His subjects spanned from corruption, to addiction, to people's ideology that glamour and success is the key to life.
The piece we'd like to introduce you to is titled The Bad Bush. The diptych was exhibited during Isoe's show at Lazarides Rathbone, In The Bad Bush, June 2013 and has stuck in the minds of many that viewed it.
In The Bad Bush followed a period of silence from Charlie Isoe, as the artist chose to withdraw from the public and create his pieces in the isolation of Western Australia. The exhibition represented the first time he returned to the gallery with a new series of large scale works on canvas.
The work delves into figuration and abstraction with a large photographic print as the backdrop and a theme of flesh, sexual acts and decadence created with oil, acrylic and spray paint.
2) Todd James, Black Jets, 2008
Todd James' signature bold colours and characters are instantly recognisable. The artist began showing the world his work on the New York subway system and he is considered one of graffiti's best known statesmen to this day.
His pieces generally comment on politics, war, law enforcement and social behaviour but these very serious topics are masked with his bright palette, brazen characters and corrupted cartoon outrage. The viewer is treated to Todd's fantasy world but a closer look will reveal a subject matter that is directly connected with reality, a mixture that can stir uncertainty in a viewer. How can a painting that looks so animated be riddled with the horrors of the modern world?
This particular piece was created for Blood & Treasure, an exhibition that took place in Greek Street, London. It was featured amongst over twenty new paintings from the artist, as well as a never-before-seen animated video. The imagery included grinning aircraft carriers, lounging blondes, sneaky missiles and skulls wearing sailor suits; a subject matter that commented on an array of universal problems that have no immediate solution.
The situations that the paintings dictate may seem absurd but they strike a chord of realism that cannot be denied. Black Jets has been created with Gouache and graphite on watercolour paper. The subject is seemingly unstoppable, with the missiles over-joyed at the damage they may cause. This intense subject seems almost humorous when it's wrapped in Todd James' signature comic book style…
3) Antony Micallef, Study of An Embrace #1,2015
Widely acknowledged as one of the finest painters in the contemporary art world, Antony Micallef's ambitious canvases showcase his complex relationship with consumerism and indulgence.
Micallef is at heart a modern expressionist; a mix of unquestionable talent and a need to get underneath the surface and challenge imagery has created this potent cocktail. This has unsurprisingly seen the artist become one of the most compelling living painters.
In February 2015, Lazarides Rathbone welcomed Antony Micallef back to the gallery for a new exhibition entitled Self. The new body of work unveiled a series of self-portraits and other canvases that embraced the artist's personal journey and stepped away from his previous colourful pop-art language that was seen in earlier series such as Impure Idols (2007) and Becoming Animal (2008).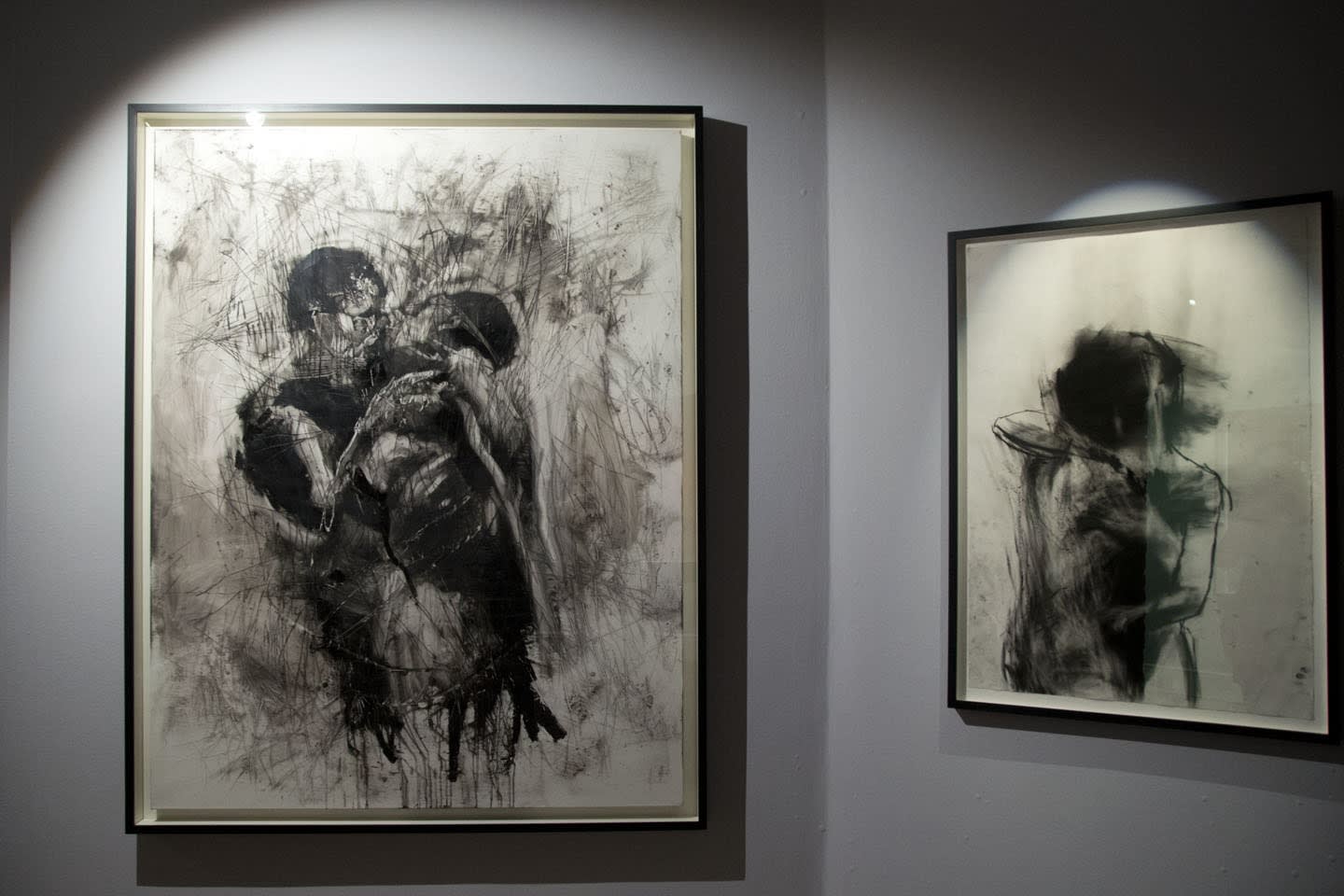 Study of An Embrace #1 is a large-scale oil piece that was featured in Self. From afar the monochrome work shows a couple embracing but upon closer inspection you'll find the work in a more ambiguous state… A couple without clear facial features or vivid clothing, a couple that could be anyone in the world, but an intense feeling of intimacy that draws the viewer into the work.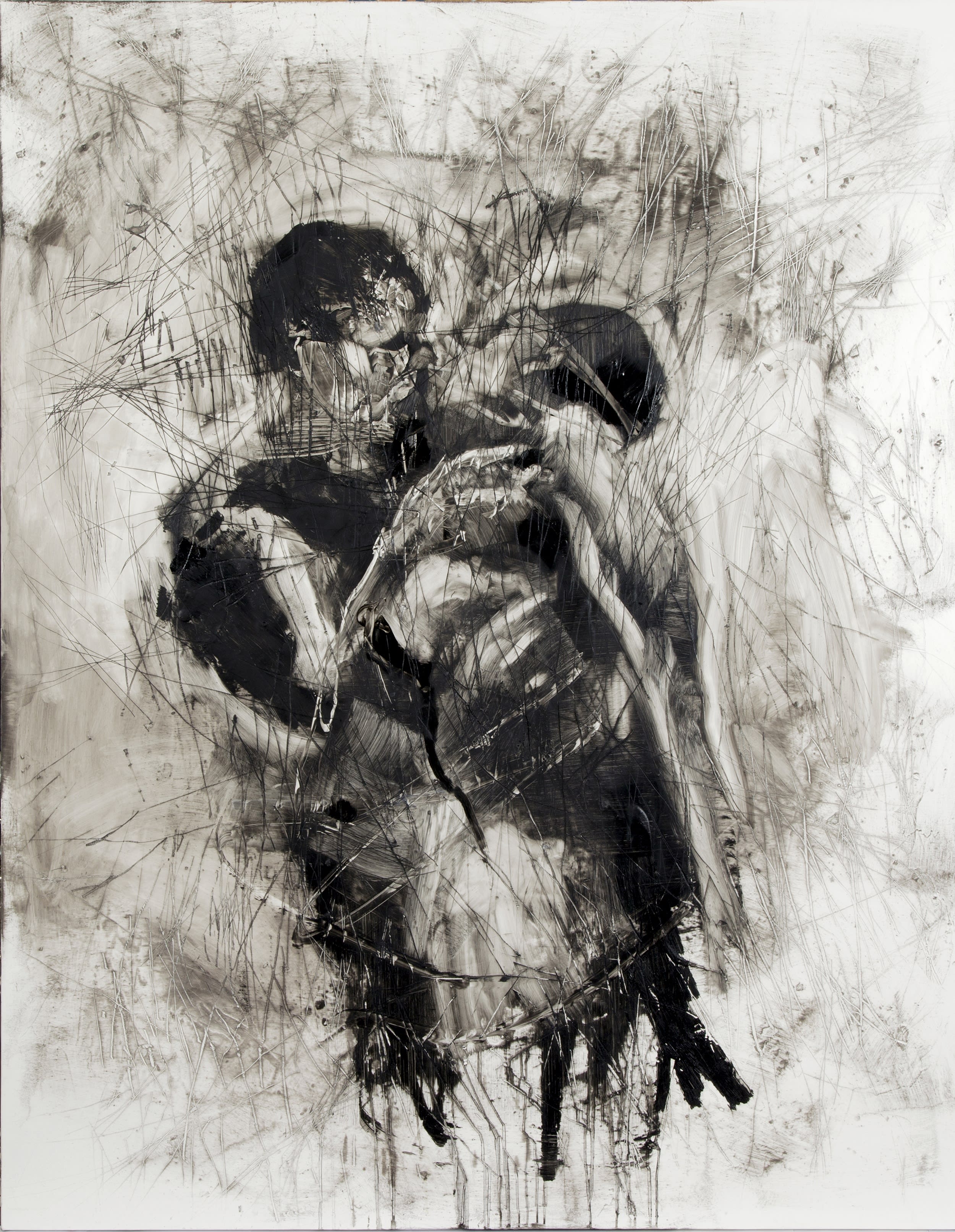 4) JR, Unframed, Nurses at Ellis Island Hospital revu par JR, U.S.A, 2014
JR's skill and technique as an artist extends beyond his breath-taking photography, it is the emotion he installs in anyone that views his work. The artist pastes giant monochrome portraits in some of the world's least desirable neighbourhoods: the subject is often a local person but with this he is able to establish empathy for people who often find themselves stereotyped by public perception.
JR reminds us that we are all human, with different paths in life, different places to call home and different personalities, but we all have feelings of compassion, warmth and humour. These should be constant staples in life when we read the news, glimpse at someone on the street or make a judgement.
One project that stands out in our minds is Unframed – Ellis Island, the same project that this piece originates from. Ellis Island was originally the entry point to America for 12 million immigrants coming from all over the world in search of a new life. Those deemed unfit to enter America were sent to the hospital on the island and were studied, treated and photographed before being released to enjoy their new home.
JR was invited to work on the abandoned part of Ellis Island to create installations within the buildings. The artist revisited the archives of photographs from the island and began to feature blown-up versions of these throughout the buildings, making sure that each piece suited the feel of the room and the stories that these ghosts were telling.
This piece, Unframed, Nurses at Ellis Island Hospital revu par JR, U.S.A, 2014, is an image of an installation in situ at Ellis Island (image below). It is a clear example that a photograph can tell a thousand stories, or in this case, maybe 12 million…
Want to see more pieces? Browse more originals online or contact a member of our team.