Blog
Banksy's Print Revolution
8 June 2018
It's 2018, and by now we've all heard of the anonymous street artist Banksy. He has transformed cities across the globe from London to Bethlehem with his unique brand of politically and socially charged art. It's very rare that you'll find one of his works that isn't riddled with controversy; provoking audiences to dissect its message. However, these street works were not the only thing that contributed to Banksy's fame - a large piece of his career has been dedicated to screenprinting. Making prints allowed Banksy to expand his practice, widening his market and appeal, and led to new ventures that would otherwise have been inaccessible had he limited himself to city walls.
It is no secret that Steve Lazarides, co-founder of Lazinc, is a fan of screenprints, and it is therefore no surprise that it was Steve who encouraged Banksy to create prints. During the late 1990s, the print business wasn't as lucrative as it is today, but this soon changed with the creation of Pictures On Walls (POW). In the early 2000s Steve Lazarides and Banksy erected the POW website to sell Banksy's prints. Immediately the prints began flying off the shelves, often in exchange for as little as £35. This kind of accessibility helped popularise Banksy, with the general public buying prints simply because they liked the image or the message. It also allowed Banksy to generate an income for himself, affording him the ability to keep making work and take on bigger projects. Before the days of Instagram, word of mouth meant everything in the art world, and Banksy's prints certainly caused a stir.
As the word on the street spread, Londoners began to notice stencilled rats popping up along the walls of the South Bank. One of Banksy's notable prints, Because I'm Worthless, was originally a piece of street art. It depicts a rat holding up a sign in protest with this statement written on it in bright pink paint. The rat can be seen as a form of urban scum, a pest that needs to be weeded out just like graffiti, or anyone who chooses to rebel against the state. The words used also play on the famous L'Oréal tagline 'Because I'm Worth It', maligning the inundation of capitalism.
Another popular work that made it into the print medium was the Grin Reaper. Once visible on London's Old Street, the Grin Reaper was depicted with the stereotypical hood and scythe but was adorned with a smiley face. The smiley face has endless connotations within Western culture, from emojis to Walmart to the need to put on a 'good' front. Instead of beckoning for death, the reaper here is objecting to us operating as mindless machines.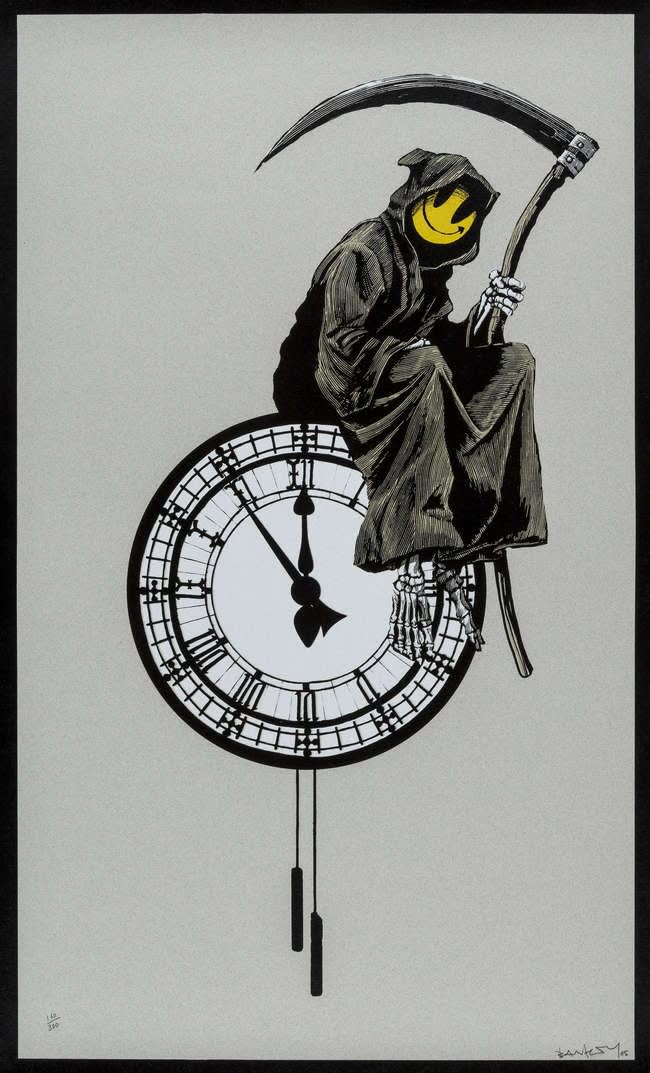 This led to the underground warehouse shows. In 2003 Steve Lazarides and Banksy created his first warehouse exhibition, Turf War. The show demonstrated that Banksy's work could translate from the street to print to installation. Through using different media Banksy and Steve Lazarides defied the traditional notions of street art, changing its definition and reimagining the standards for what street art can be.
By deciding to expand into prints, Banksy and Steve Lazarides unwittingly caused a street art revolution. Not to be confined within a white cube gallery, the two still found ways to challenge the norm of the exhibition, creating pop-up spaces such as Santa's Ghetto to sell these prints. This revolution caused Banksy's fame to shoot skyward - the elite crowd were now after his work and his name was known across the art world.
With the likes of JR, Shepard Fairy, Vhils and more producing prints, we can safely estimate the print revolution is not quite done yet, and will continue to alter the perception of street art. We can't wait to see what is next…
Want more Banksy?
Lazinc will open Banksy, Greatest Hits: 2002 - 2008 in July 2018, please visit the exhibition page for further details. If you are interested in works mention in this blog or are looking to buy a Banksy print, please contact sales@lazinc.com.
Browse through some of Banksy Prints that closely relate to the content in the blog; we are constantly updating our stock so please enquire for further information on buying a print.